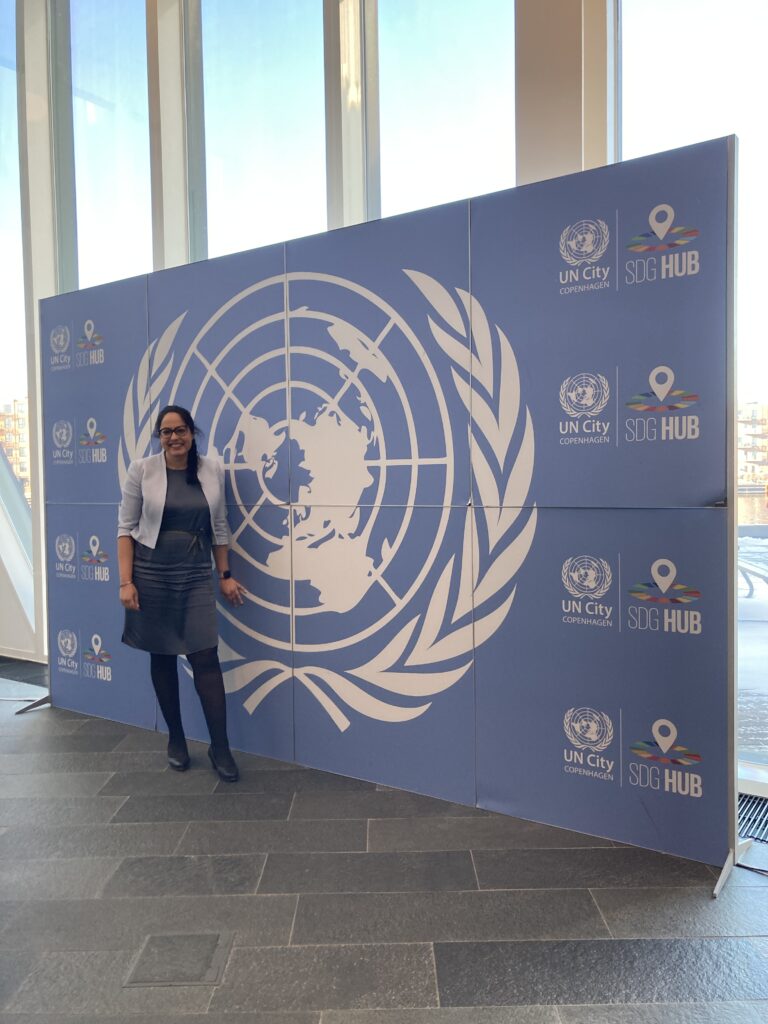 "To identify yourself as a change maker can be a bar that is hard to come by. You want to make a change, help others making a change and be the change. For a good cause. In my case that would be to empower change makers towards an inclusive workfloor. But your circle of influence can only bring you as far as that circle goes. So how can I extend my circle? How can I broaden my influence and impact?"
This year (2023) to me is all about networking, finding equal minded change makers and empower each other. And when I look at my list of companies I want to work with I know who is sky high on there.
It's the United Nations.
I feel like in awe looking at the UN, how amazing it is that this many countries working together are striving to make a positive change. All towards the sustainable development goals (SDG)! There are 17 SDGs and 169 targets in total and with Sparkling Gems we are committed to 5 of them (gender equality; decent work and economic growth; reduced inequalities; peace, justice and strong institutions and partnerships for the goals).
So when one day an opportunity arise to get to know the United Nations during the UN IPS (International Procurement Seminar) in UN City Copenhagen I took it with both hands. And subscribed and booked my flight. To Copenhagen!
The preparations
So for anyone out there who wants to work with the United Nations. Know that there are many routes. The UN IPS is just one of them and I gladly share with you my experience of this event. It starts (like everything) with the preparation. I had no clue if the UN IPS would be interested in working with us, Sparkling Gems, an advisory firm focused on Diversity, Equity and Inclusion (DEI). And it is quite an investment to make. Will it make sense? So as kindly advised by the Netherlands Enterprise Agency (RVO) I just subscribed for the event to see which UN agencies were willing to meet with me for a one-to-one meeting. And to my surprise there were 4 UN agencies! (out of 9). Furthermore, being a network organization of change makers I reached out to our colleagues to include them in our company presentation. Network IS impact. Also did I make new brochures and impact maker cards. The UN can't take any merchandise other than leaflets. It's a strict rule to ensure equal treatment of all suppliers.
The UN IPS
The UN IPS is a 2-day event and in this specific case it was organized by the Netherlands, Ireland and the UK (and their respective enterprise agencies). The team did a wonderful job and made sure everything went smooth. They had to coordinate 450 one-to-one meetings (which consisted of 4 of mine) so with around 118 suppliers it was a big event.
The seminar itself consists out of panel discussions, these are meant to introduce the missions of the different UN agencies, showcase their work and also requests. Plus you have the opportunity to join the panel discussions. Then parallel to the panel discussions there are the one-to-ones which are organized in separate rooms. And not to worry, we had lunch ánd coffee breaks too! Perfect to network in case you are not scheduled for a one-to-one of your choice. And talking about networking, did I mention there were 118 suppliers from the Netherlands, Ireland and the UK?
The suppliers
While I had no clue beforehand meeting with the different suppliers was equally impressive as meeting the UN agencies. What a drive, great mentalities and 'can do' power was present. I can not mention all of them but I do want to highlight three amazing companies I met.
So first of all that would be GOAL 3, they enable and empower doctors with durable and easy-to-understand medical technologies at places where it is needed most. One of the stories that stood me by most was the problem: how to deal with multiple languages on your interface? Especially in countries where there is a diversity in languages and cultures. By creating and using pictograms they make their applications easy to use. Go check them out here for instance on the great work they do in Africa!
Another company that uses an approach (data!) close to my heart (insights!) is Be Data Driven. This company based in The Hague help humanitarians spend less time on collecting and analyzing data. This is a great solutions for those practitioners that for instance need don't have the time but might need the insights. They do great work as well in case management related to gender-based violence.
Last but not least is OpenGeoHub, we all love open data no? Through their datasets and online platforms they make global data available and open, granting direct access to anyone, anywhere. Just think about the possibilities to restore the ecosystem at the most vulnerable places on earth. And also, they are explicitly committed to gender equality! They even have a section on their website where they explain in a practical way what it is they do to ensure gender equality in their internal working culture, events and education and research. Definitely a best practice.
My 5 key take aways
So what did I learn from joining the UN IPS in Copenhagen?
1. To truly understand your customer you have to understand their world, their day-to-day worries and also be able to replace yourself in their shoes.
I can hear you think 'no-brainer' but this is definitely not always that easy. Especially not with an institution as impressive but also institutionalized as the United Nations agencies
2. Network, network, network

The UN is striving to be transparent and all information regarding tenders and the process can be found on United Nationals Global Marketplace (GM). However, the value of understanding the more personal perspectives of the UN Officers (see point 1), I found that very valuable.
3. Food is a catalysator for change
No seriously, the best stories, insights and peeks into the personal lives of what drives people were being enjoyed by food. And drinks. But mostly food (the Danish pastries were fabulous).
4. Together we make impact
Ok, at Sparkling Gems we already knew that (and do that). Still it is great to see again in practice, the people reaching out to each other to work together, to empower and for instance submit a proposal together for a tender.
5. Top tips for winning a tender
Yes, we learned that. And we might write another blog about it in the future. There has to be something to look forward to right?
Be a change maker, be a Sparkling Gem